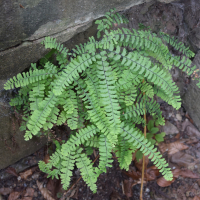 Adiantum aleuticum (Rupr.) C.A.Paris


Western maidenhair fern


…


…


…
Class: Pteridopsida
Family: Pteridaceae
Status
R – extremely rare

Description
Adiantum aleuticum – member of the Adiantum pedatum complex – was observed, on the 21th of June 2022, in a wall at Ettelbruck. To our knowledge, this is the first documented naturalized occurrence in Luxembourg of this garden escaped fern.
Further information
Confirmed by molecular studies.
Suggested citation of this webpage
Krippel, Y., 2023. Adiantum aleuticum (Rupr.) C.A.Paris. In: Online atlas of the pteridophytes of Luxembourg. URL: https://pteridophytes.lu/adiantum-aleuticum/ [29.03.2023].