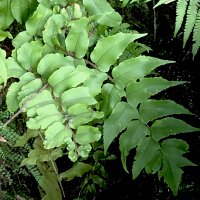 Cyrtomium falcatum (L. f.) C. Presl.


House holly-fern


Fougère-houx, Aspidie en faux


Mond-Sichelfarn


Mound-Séchelfar
Class: Pteridopsida
Family: Dryopteridaceae
Status
R – extremely rare

Description
Cyrtomium falcatum was observed, on the 4th of July 2020, by Jo Goergen and Patrick Thommes in a ditch near Esch-sur-Sûre. To our knowledge, this is the first documented naturalized occurrence in Luxembourg of this popular garden fern.
Suggested citation of this webpage
Krippel, Y., 2020. Cyrtomium falcatum (L. f.) C. Presl. In: Online atlas of the pteridophytes of Luxembourg. URL: https://pteridophytes.lu/cyrtomium-falcatum/ [11.08.2020].