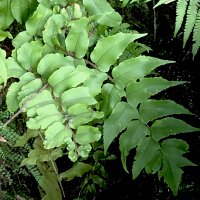 Cyrtomium falcatum (L. f.) C. Presl.


House holly-fern


Fougère-houx, Aspidie en faux


Mond-Sichelfarn


Mound-Séchelfar
Class: Pteridopsida
Family: Dryopteridaceae
Status
R – extremely rare

Description
Cyrtomium falcatum was observed, on the 4th of July 2020, by Jo Goergen and Patrick Thommes in a ditch near Esch-sur-Sûre. To our knowledge, this is the first documented naturalized occurrence in Luxembourg of this popular garden fern.